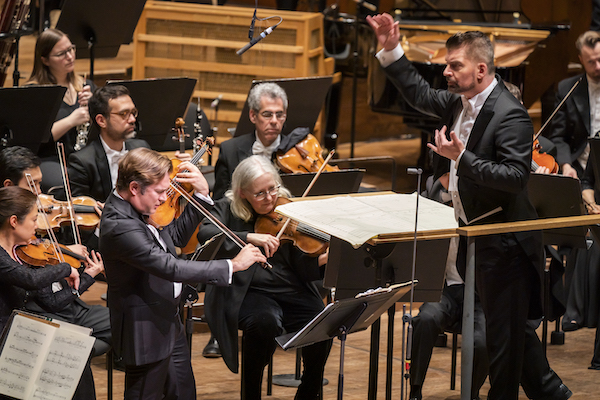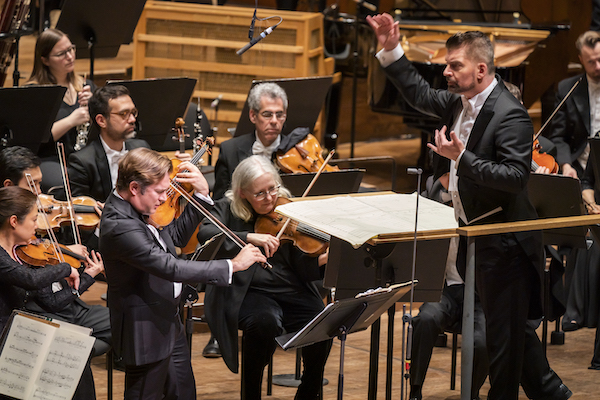 (Photo by Chris Lee)
By LAURA JOBIN-ACOSTA     FEB. 23rd, 2019
A dramatically diverse program made quite an evening, last night, at the New York Philharmonic. Some were left in awe, and some left! 
A warm and lush Alborada del gracioso by Maurice Ravel enticed the audience with it's Spanish flavors. Conducted by conductor/composer Matthias Pintscher, with finesse, the musical conversation was the perfect piece to begin the evening. The trumpet's quick-spit passages were delivered with ease and flair.
Pintscher went on to conduct the rest of the concert, including his own composition called mar'eh. Inspired by violinist Julia Fischer's playing techniques, he wrote mar'eh, which means "face, sign" in Hebrew, in 2011 on commission from the Lucerne Festival, Alte Ope Frankfurt, and the London Philharmonic Orchestra. 
Some of you may have read my article on Julia Wolfe's premiere of Fire in my Mouth, performed last month, but typically the New York Philharmonic doesn't play a lot of new music, so it was a welcome change.
Mar'eh was captivating sound-experience that played on textures, melodies, and extended technique. Renaud Capuçon, the violin soloist played Pintscher's challenging, tender and sometimes eerie lines, with delicacy and passion. The piece was diverse in terms of timbre. It was interesting to watch it being conducted, especially because the piece didn't sound like it had a meter. Pintscher respectfully gave cues to the orchestra, and appeared to be non-biased. For the most part, the audience reciprocated that respect, though not everyone could handle the unique tonal atmosphere.
Finally, we got what we were all waiting for, Stravinsky's Firebird. Listening to this well-known piece is an experience for more than just your ears, but rather your whole body. The orchestra played a phenomenal performance. The sweet moments were like sacred honey and the powerful moments were completely captivating and shook you down to your core. Even if you have never seen the ballet, the music of Firebird is so incredibly visual that one can almost see it in their head if they close their eyes. 
How incredible, that at only 28 years, Stravinsky wrote such a magnificent piece of work, with such pristine orchestration. To no surprise, the audience leaped to their feet with a thunderous standing ovation. Notable moments included Pintscher's charm as a conductor, a gorgeous viola/trumpet thematic duet, the sparkling stirring motion of the harps, and the genius of the magnificent ending! 
Overall, the night was a thrilling music experience, with some extra unexpected fun to be had. Outside of David Geffen Hall was a media wall where attendees could take photos with props including wings, and toy trumpets and clarinets. It was a great way to have a memory a truly amazing evening.